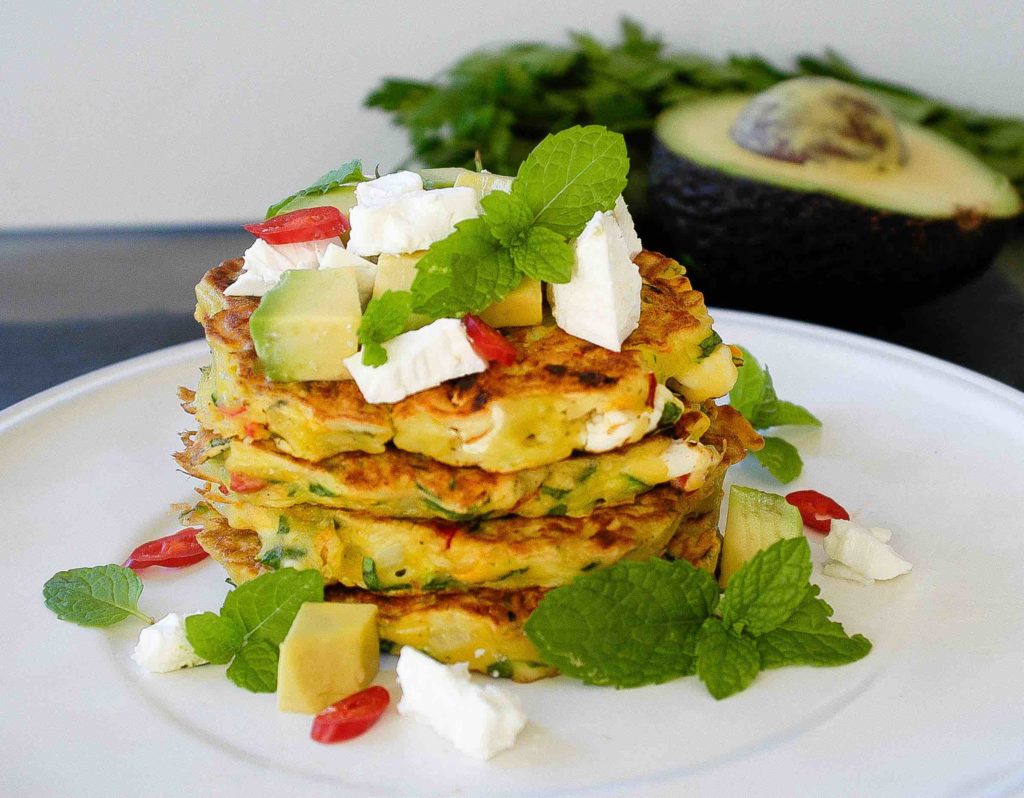 Just about every parent I know worries that their kids aren't eating enough veggies. And it's not just kids – the stats show that only 7% of us adults are eating enough vegetables, so it looks like almost all of us need to lift our game in the veg department!
But if veggies really don't float your boat or you're dealing with fussy eaters, there's one (almost) guaranteed way to make them a whole lot more appealing, and that's to make them into fritters ('cause who doesn't love a fritter!).
Feel free to use other veg if you like  – potato, sweet potato, fennel, carrot, sweet corn and peas are all great additions (just keep the overall quantities the same). And if you're worried about protein, don't be. Thanks to the eggs and feta, you'll be getting a good dose of not just protein but B12 and calcium too.
Ingredients (serves 2 – makes about 8):
1 cup grated zucchini
1 cup grated pumpkin
1/2 cup finely chopped onion
1/2 cup finely chopped red capsicum
1/2 cup finely chopped baby spinach
100g soft feta
2 eggs
1/3 cup wholemeal flour
1 tablespoon extra virgin olive oil
To serve (optional):
1/2 avocado, diced
50g extra feta
Handful of mint leaves
1/2 large red chilli, sliced
2 tbsp sweet chilli sauce
Method
Mix all ingredients except olive oil together in a large bowl until well combined.
Heat oil in a large frying pan over low-medium heat. Spoon 1/3 cupfuls of batter into frying pan and fry for 5 minutes on each side (by this stage the fritters should be golden brown and the veggies nice and soft).
Serve topped with the extra feta, avocado, mint leaves, chilli and sweet chilli sauce. You can also serve these in a bread roll if you want something a bit more filling (this is a great option for lunch leftovers!).