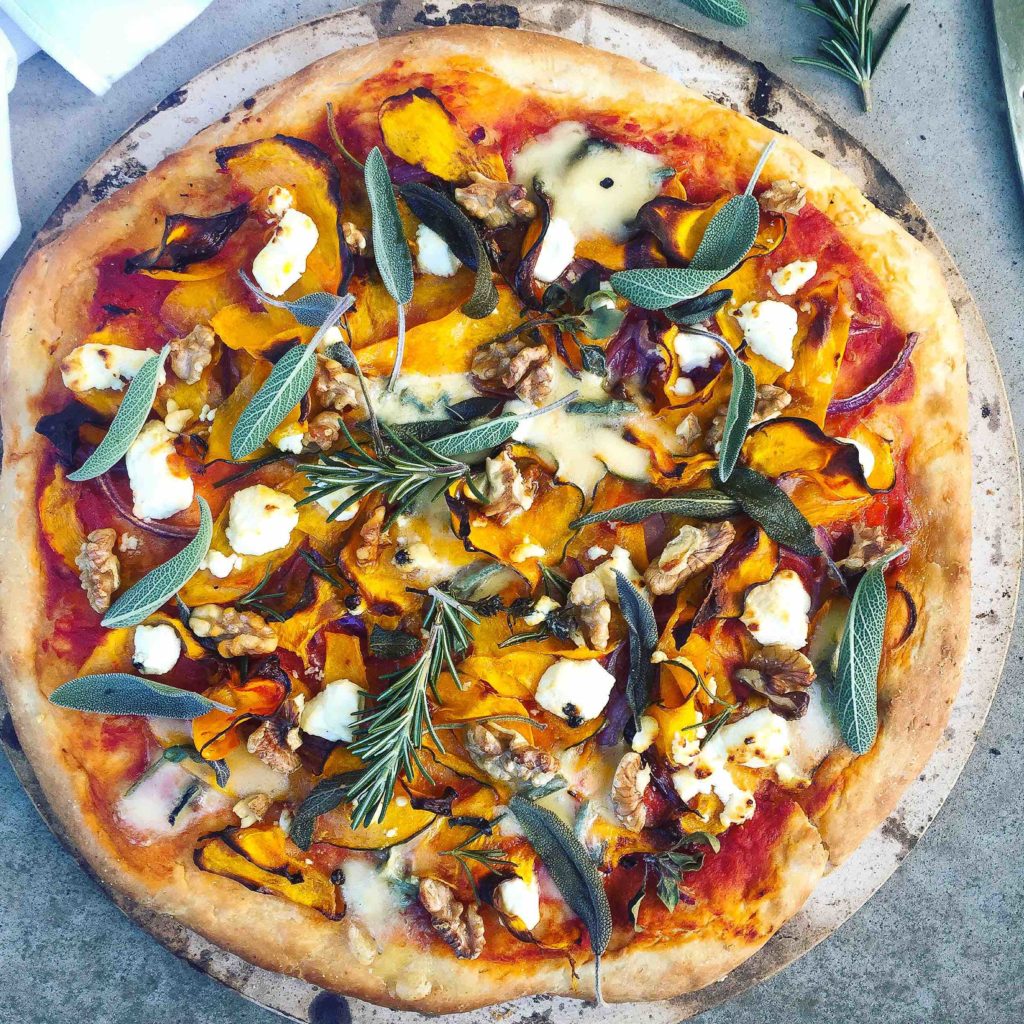 There's nothing quite as satisfying as making homemade pizza from scratch, but all that time waiting for the dough to rise can really put you off if you just want to get food on the table fast. This dough recipe doesn't need to be risen first, so you can get the whole process done – dough, toppings and all – in around 30 minutes and have a delicious (and impressive looking) all pizza ready to eat!
The combination of pumpkin, red onion, goat's cheese and walnuts works really well and because the pumpkin is shaved you don't need to cook it first or remove the skin, which saves lots of fussing around. Of course, you can also freestyle to your heart's content and use whatever toppings you like, that's the beauty of homemade pizza!
Ingredients (makes 1 large pizza or 2 small pizzas):
Dough
7g dry yeast (1 small sachet)
1 tsp sugar
1 cup wholemeal flour
1 1/2 cups plain flour (preferably bread or pizza flour)
2 tbsp olive oil
1 tsp salt
Topping
3 tbsp tomato passata or pizza sauce
1/4 red onion, finely sliced
1 small wedge of pumpkin (around 100g), skin on but seeds removed
100g goat's cheese
50g blue cheese (optional)
1 small handful walnuts, broken up slightly
A few sprigs of sage or rosemary
Method:
Preheat oven to 220°C.
In a small bowl, dissolve yeast and sugar in 1 cup of warm water.
Mix together flours, olive oil and salt. Stir through yeast mixture and mix well to form a dough.
Turn out onto a floured surface and knead for 1-2 minutes. Leave to rest for 5 minutes.
Roll out dough on a floured surface until around 1cm in thickness. Transfer to a large tray or pizza stone.
Spread tomato passata over base, leaving about 2cm around edge. Using a vegetable peeler, peel thin strips of pumpkin from side of pumpkin wedge over tomato base until well covered, allowing some pieces to overlap and curl around each other. Crumble over cheese.
Bake for 10 minutes, then sprinkle over walnuts and sage or rosemary leaves and bake for a further 5 minutes or until crust and pumpkin are golden brown.
Sprinkle with extra herbs and serve.