To me there's nothing better than a meal where you just chop up a bunch of different things and throw it all into the oven to take care of itself. If it ends up looking and tasting fantastic then that's a huge bonus – and if it's healthy too then it's basically a dream recipe in my book!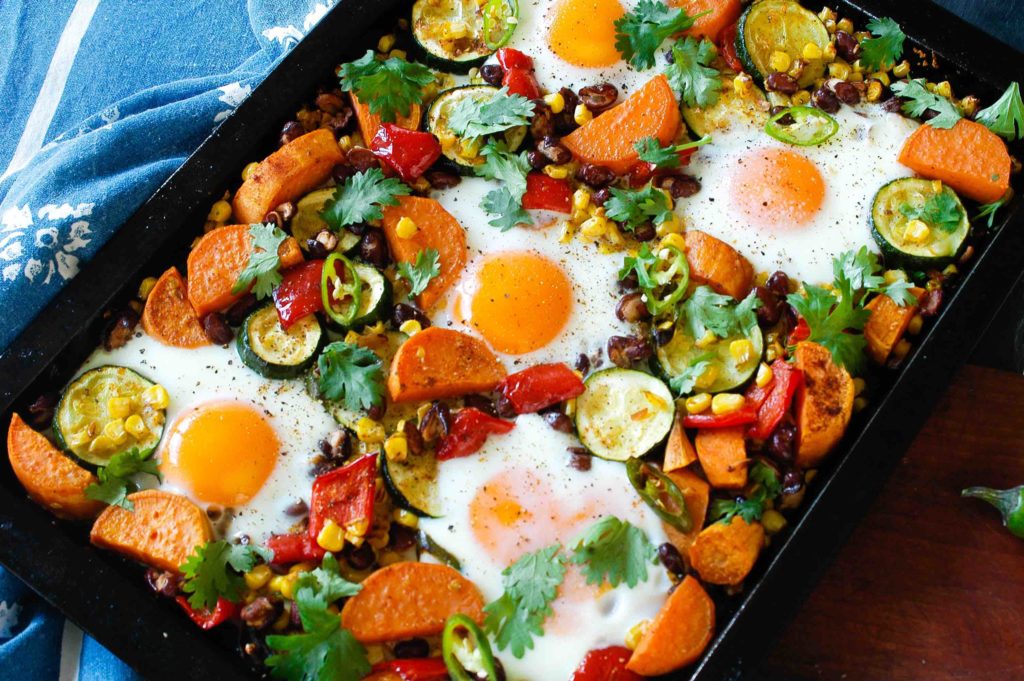 This super easy Mexican egg hash ticks all of these boxes – and you only use one pan so you'll barely even have to wash up, it doesn't get much better than that!
Thanks to all of the different vegetables, you end up with a tray full of contrasting colours, which don't just look beautiful, they also provide a whole lot of different phytochemicals – plant compounds which give vegetables their colour and can also reduce the risk of heart disease and certain types of cancer.
There's also plenty of fibre and low GI carbs from the sweet potato, corn and beans and protein and vitamins and minerals from the eggs – so an almost perfectly balanced meal all in all. Plus, it works just as well for breakfast, lunch or dinner!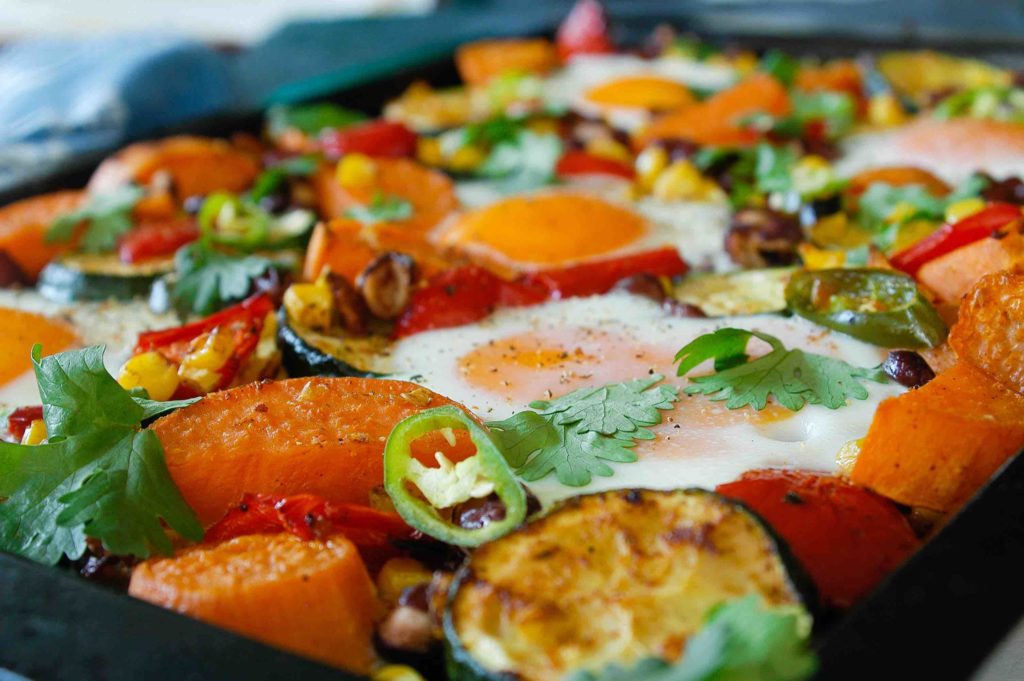 Ingredients (serves 2):
1 tbsp extra virgin olive oil
1 sweet potato, peeled and thickly sliced
1/2 red capsicum, cut into chunks
1 zucchini, thickly sliced
1 cup canned kidney beans, rinsed and drained
1/2 cup sweet corn kernels (tinned or fresh)
1/2 large red or green chilli, deseeded and thinly sliced
1/2 tsp smoked paprika
4-5 eggs
Handful of coriander leaves
Method: 
Preheat oven to 180C and drizzle a large oven tray with olive oil.
Scatter sweet potato, capsicum, zucchini, beans, corn and chilli over tray, sprinkle with paprika, toss lightly in oil and bake for 15 minutes.
Remove tray from oven and make 4-5 small gaps in the veggies for the eggs.
Gently crack one egg into each hole and bake for a further 5 minutes or until eggs are set but still soft in the middle.
Scatter over coriander and season with salt and pepper, then divide between two plates and serve!
Recipe inspired by The Kitchn.