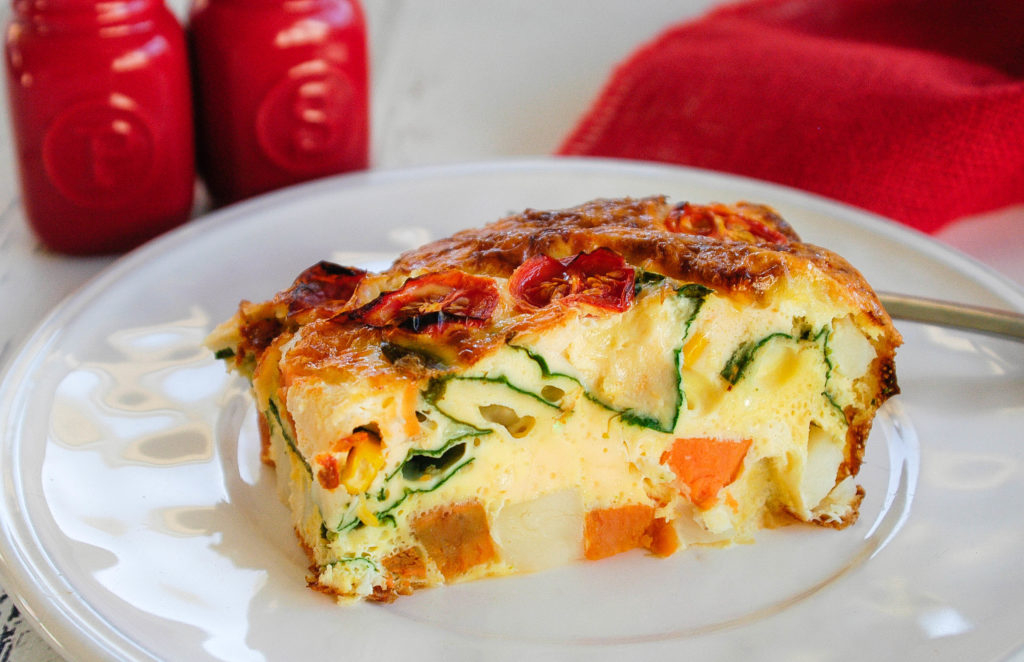 Frittatas are one of my go to dinners when there's barely any food in the house – as long as you have some eggs, milk, maybe a bit of cheese and a few left over veggies lying around, you're good to go.
While most frittata recipes require you to cook it over the stove first and then finish it off under the grill, I find this one does just as well in the oven. This does mean it takes a little longer to cook but the advantage is you don't have to keep such a close eye on it, which is worth a few extra minutes if you ask me!
Ingredients (serves 4):
1 large potato, peeled and diced into 2cm cubes, skin on
1 small sweet potato, peeled and diced into 2cm cubes
8 eggs
1/4 cup milk
1/3 cup sour cream
1/2 cup sweet corn kernels
1 handful baby spinach
1 cup grated cheddar cheese
1 handful cherry tomatoes, halved
Method:
Preheat oven to 180°C. Grease a 28 x 18cm rectangular dish.
Place potato and sweet potato in a microwave safe bowl. Add 2 tablespoons of water, cover with an upturned plate and microwave on high for 5 minutes or until soft but still holding shape. Drain and allow to cool for a few minutes.
Whisk eggs together with milk and cream in a large bowl until well combined.
Add potato, sweet potato, corn, baby spinach and cheese to egg mixture and stir to combine.
Pour into greased dish, top with cherry tomatoes and bake for 35-40 minutes until a skewer inserted into the centre comes out clean.