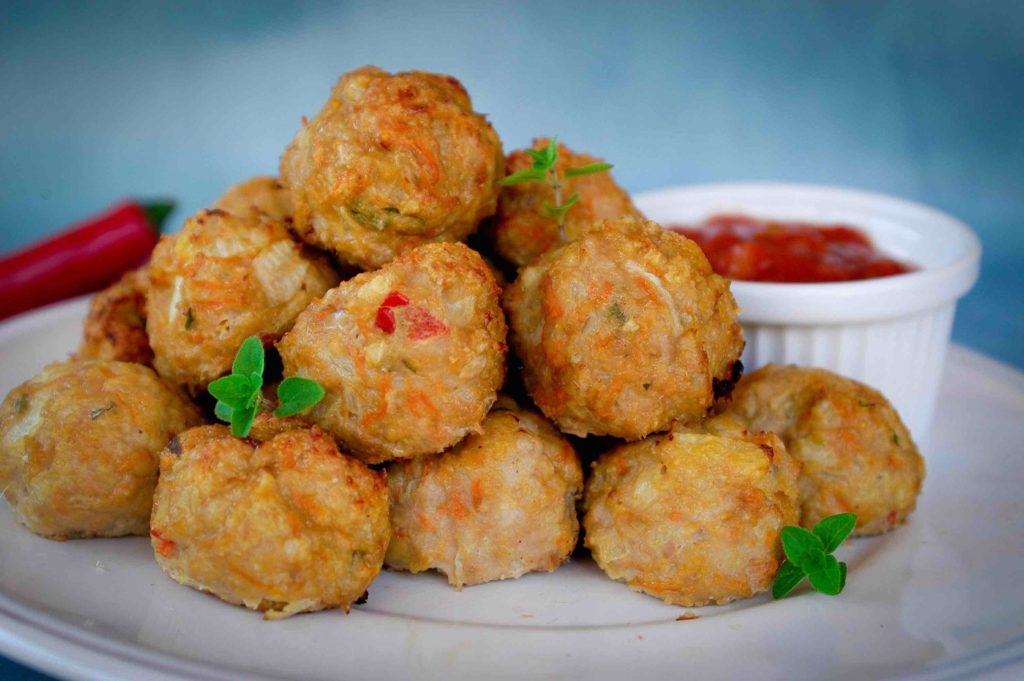 Just about everyone loves meatballs, but they generally require an annoying amount of time standing over a frying pan and mine always end up breaking apart as they're cooking. Not these ones though – all you have to do is just pop them in the oven and they'll take care of themselves – and they stay in one piece!
But the best thing about these meatballs is that you can repurpose them for a whole lot of different meals – have them the traditional meatball way with pasta covered in tomato sauce, as an appetiser with a tomato or sweet chilli dipping sauce, in a soup, as part of a salad or even as an appetiser with a tomato or sweet chilli dipping sauce – the possibilities are endless.
They are also a great way to sneak some extra vegetables into a fussy eaters diet.
Ingredients (makes about 20 small meatballs):
500g chicken mince
1/2 cup almond meal (alternatively, use breadcrumbs)
1 egg, lightly beaten
1 small onion, very finely chopped
1 clove garlic, minced
1 carrot, finely grated
1 tbsp fresh herbs, finely chopped (e.g. thyme, parsley, oregano)
1 tbsp soy sauce
1/2 large red chilli, deseeded and finely diced (optional)
Method: 
Preheat oven to 200C.
Mix all ingredients together in a large bowl until well combined.
Form tablespoonfuls of mixture into balls (using wet hands helps to stop the mixture from sticking) and place on an oiled oven tray.
Bake for 15-20 minutes or until cooked through.