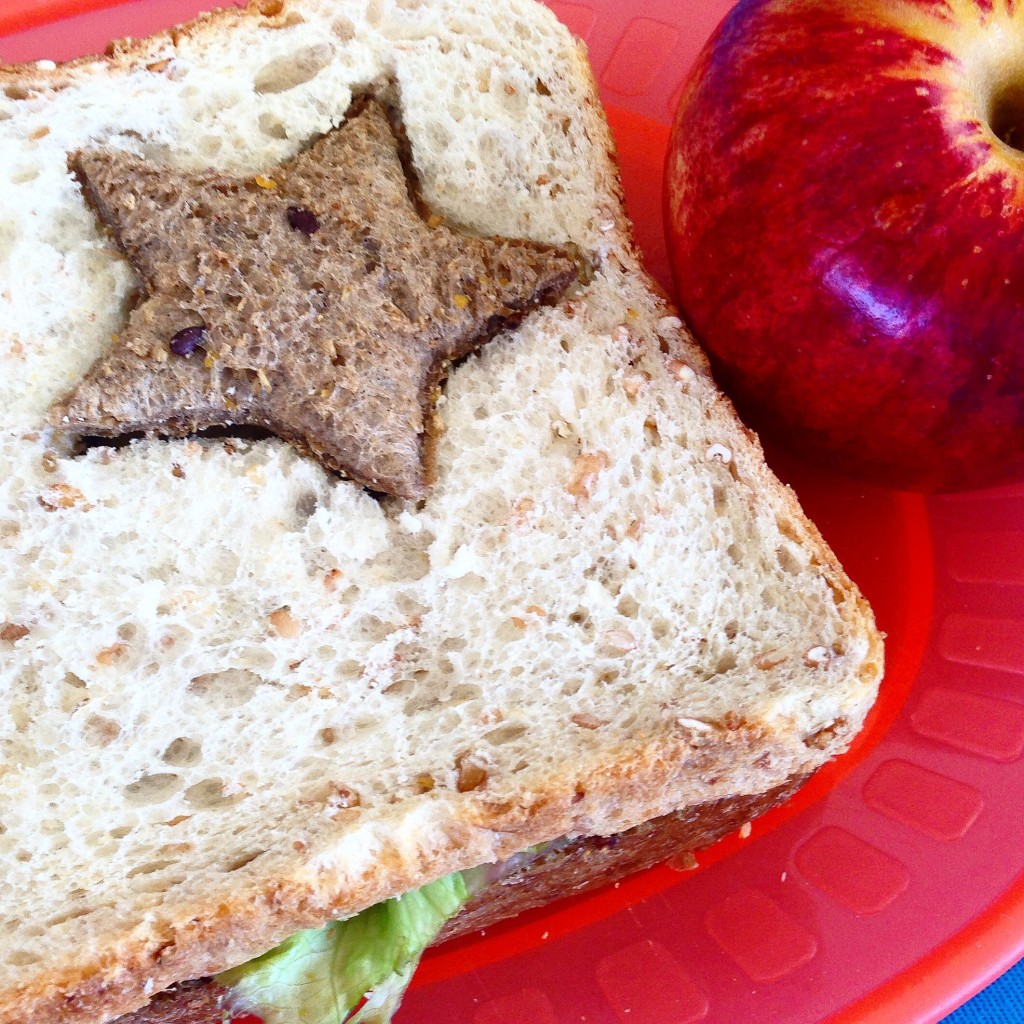 Packing your child's lunchbox can be a daunting experience, especially for new school parents. In fact, I've heard of corporate executives who admit to having more anxiety about what they're putting in their child's lunchbox than they do about big presentations!
And it's no wonder. Not only is there nutrition to think about, there are also food safety issues, school packaging and allergy policies, and most importantly what your child will actually eat! And then there is of course the pressure to send your child off to school with Pinterest inspired lunch boxes complete with sandwiches shaped as Disney characters, homebaked 'sugar free' muffins and origami handwritten notes which, lovely as they are, almost no one actually has time to make.
But packing a nutritionally balanced, safe, school rule abiding lunch that kids will actually eat doesn't have to be another source of stress in your day.  I've broken it down into five basic steps to try and make it a bit easier.
But firstly, some lunchbox 101.
A nutritious lunchbox should ideally be made up of four elements:
1. A main item – e.g. a sandwich, wrap, roll or salad
2. A fruit or vegetable snack – e.g. fresh fruit, dried fruit or veggie sticks
3. A second snack based on a food from the five food groups – e.g dairy, grains
4. A drink – water or reduced fat milk
Grains*
Sandwiches
Wraps
Rolls
Pasta
Quinoa
Rice
Lean meat, poultry, fish,
eggs, tofu, nuts and seeds
Lean roast beef, pork or lamb
Chicken breast
Tinned tuna or salmon
Ham
Boiled eggs
Tofu
Nut butter (depending on school nut policy)
Dairy or alternative*
Yoghurt
Milk or soy milk
Cheese
Cream cheese
Custard
Fruit
Fresh fruit
Fruit Salad
Dried fruit (small portions)
Small tin or tub of fruit in natural juice
Vegetables or legumes
Veggie sticks
Salad – lettuce, tomato, cucumber, carrot, capsicum etc
Chickpeas, lentils or beans such as kidney beans or cannellini beans
*These should ideally be whole grain or high fibre options
*These should ideally be reduced fat (see 'Why reduced fat dairy?' at the end of this article)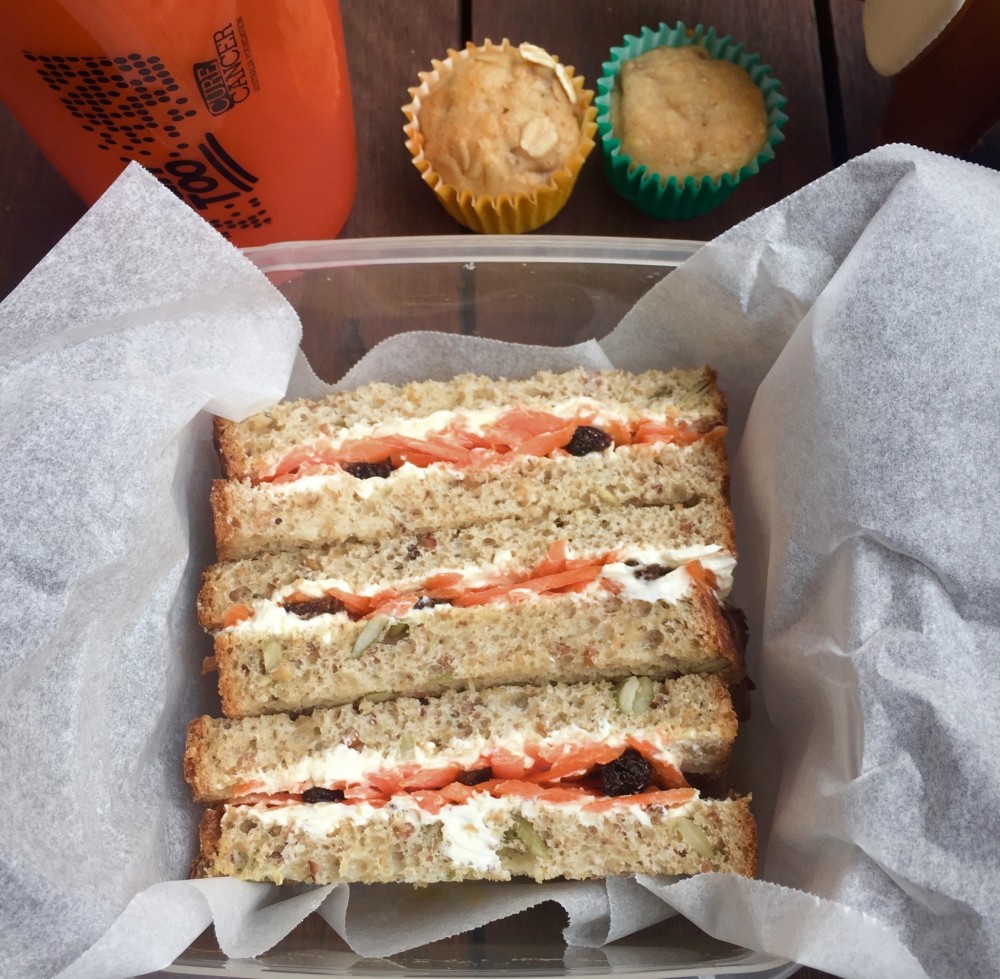 OK, so now we've covered the basics of what to include, here are the five steps. And remember the more involved you can get kids in the process the better. Having some control over what's in their lunchbox can make a big difference in what kids are willing to eat and it's also a great way to teach them basic cooking skills!
Step 1. Choose a main item
The main item is the star of the show and should provide the most nutrition. In most cases, this will be a sandwich, wrap or roll but could also be a salad or pasta.
The main item should ideally include:
• A whole grain food such as bread, pasta or rice
• A protein food such as lean beef, chicken, tinned tuna or salmon, tofu, egg or reduced fat cheese
• One or more vegetables – e.g. lettuce, grated carrot, tomato, cucumber, spinach, corn, etc
Step 2. Choose a fruit or vegetable snack
• Fresh fruit – go for ones that don't need peeling or are easy to peel such as bananas. Cut up fruit if kids don't like eating whole fruit – or try the rubber band apple trick
• Veggie sticks with a small tub of dip such as hummus or tzatzki
• Small packet or container of dried fruit – around 20-30g
• Small tub or tin of fruit in natural juice
• Corn cob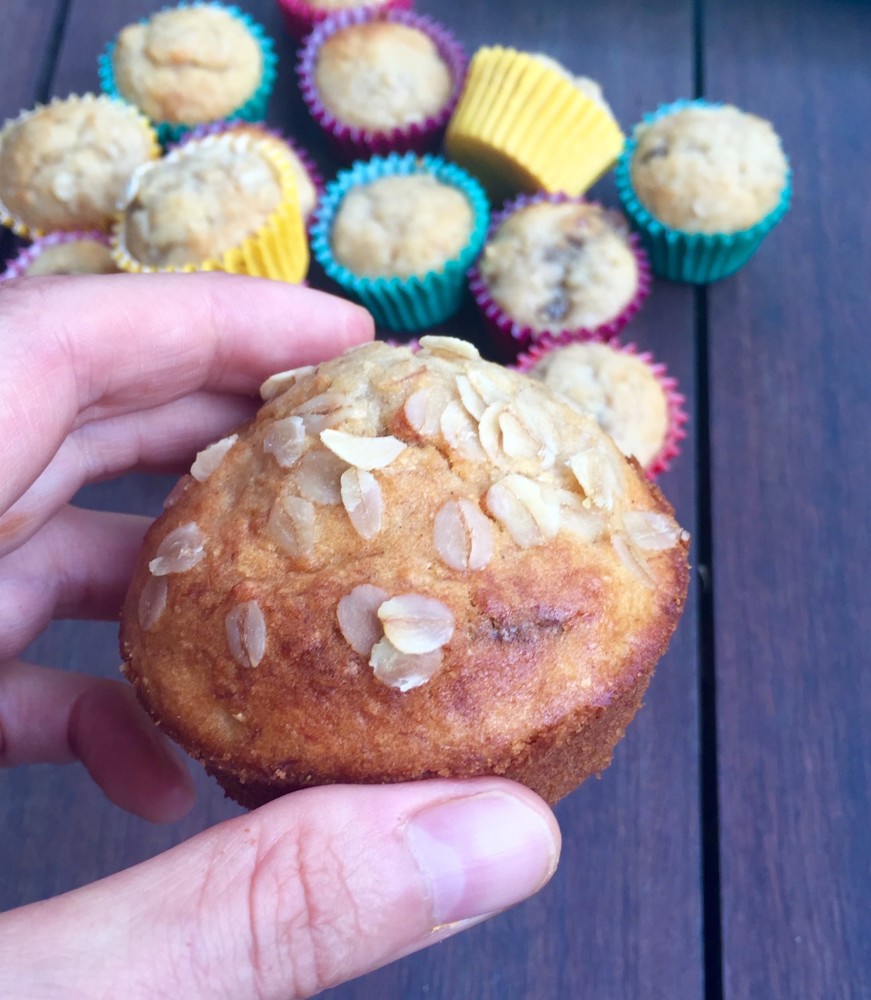 Step 3. Choose a second snack
This should include a food from the five food groups such as dairy or whole grains, e.g.
• Tub of yoghurt or custard
• Plain popcorn
• Small container breakfast cereal, e.g. mini wheats
• Wholegrain crackers with reduced fat cheese
• Wholemeal pikelets with honey or jam
• Small wholemeal muffin made with fruit – see recipe here
• Muesli balls – see recipe here 
Step 4. Choose a drink
• Water is the best drink for school – make sure kids take a water bottle to school with them everyday
• 125ml of reduced fat milk is also a good option
• A small 99% fruit juice can be included a couple of times a week in addition to water or milk but due to its high sugar content it shouldn't be an everyday drink and should be less than 200ml
Step 5. Think about food safety
• High risk foods such as meat, chicken, fish, egg and dairy products need to be kept cold.
• Assuming a fridge is not going to be available, this is best done by keeping a frozen brick or frozen drink bottle inside the lunchbox
• Milk in small cartons can be frozen or alternatively use UHT milk
• An insulated lunchbox will also help to keep food cold
• Check whether your child's school has any allergy policies such as 'nut free'
• See this website for more tips and advice
What to keep out of the lunchbox
Kids have plenty of opportunities outside of school to eat foods which are high in added sugar and saturated fat. So these foods should preferably not be taking up valuable space in the lunchbox which could be occupied by more nutritious foods. The following foods are best left out of the lunchbox or included only occasionally (i.e. no more than once per week):
• Foods with a lot of added sugar – such as cakes, biscuits, rice crispy bars, chocolate and lollies
• High fat snack foods with little nutritional value –e.g. chips and savoury biscuits
• High fat, high salt deli meats such as salami, pastrami, pepperoni, chorizo and chicken roll
• Soft drinks and juice drinks
What if my child won't eat sandwiches?
Sandwiches are undoubtedly the staple lunchbox food, but many kids refuse to eat them. So what can you give them instead so that they don't miss out on the nutrients they need (without spending hours each morning making elaborate gourmet alternatives)?
Try making sandwiches more interesting

Use two different types of bread in contrasting colours – e.g. wholemeal and rye bread
Make club sandwiches using different fillings in each layer
Include unusual fillings such as cream cheese, grated carrot and raisins
For kids who turn their noses up at Vegemite sandwiches, try something a bit more 'gourmet' but still very simple such as sweet chilli chicken (spread a couple of teaspoons of sweet chilli sauce on the bread before topping with chicken), smoked salmon or hummus
Buy a few simple sandwich stencil cutters

Try a wrap or roll instead for a bit of variety
Go for a sandwich alternative, e.g.
Why reduced fat dairy? 
Kids need plenty of calcium to support their growing bones and dairy products are an excellent source of calcium. However, Australian kids are in general consuming too much saturated fat and too many kilojoules overall. Therefore, so that kids can get  the benefits of the nutrients in dairy products – calcium, protein and vitamins without getting excess saturated fat and kilojoules, low fat products are recommended after the age of two (children under the age of two have higher energy requirements and need the additional fat).
Do you have some lunchbox tips of your own? Please share them in the comments below! 
Get the recipe for lunchbox friendly banana, date and oat muffins here