A much as I love Christmas time, the one down side is that there's always just far too much to do. Aside from all the Christmas parties and catch ups, there's the shopping, wrapping presents, writing cards –  and on top of all of that then there's the cooking!
While some very organised people are making their plum puddings a year in advance, if you're anything like me you'll be wrapping your presents on Christmas Eve and trying to throw together your contribution to the Christmas spread on Christmas morning.
If you need to pull together a few sides or you've been asked to bring a salad or dessert and are wondering how you're possibly going to find the time, don't panic! These recipes are incredibly quick to make but look impressive enough to be worthy of Christmas day (and no one needs to know that they're healthy too!).
Merry Christmas!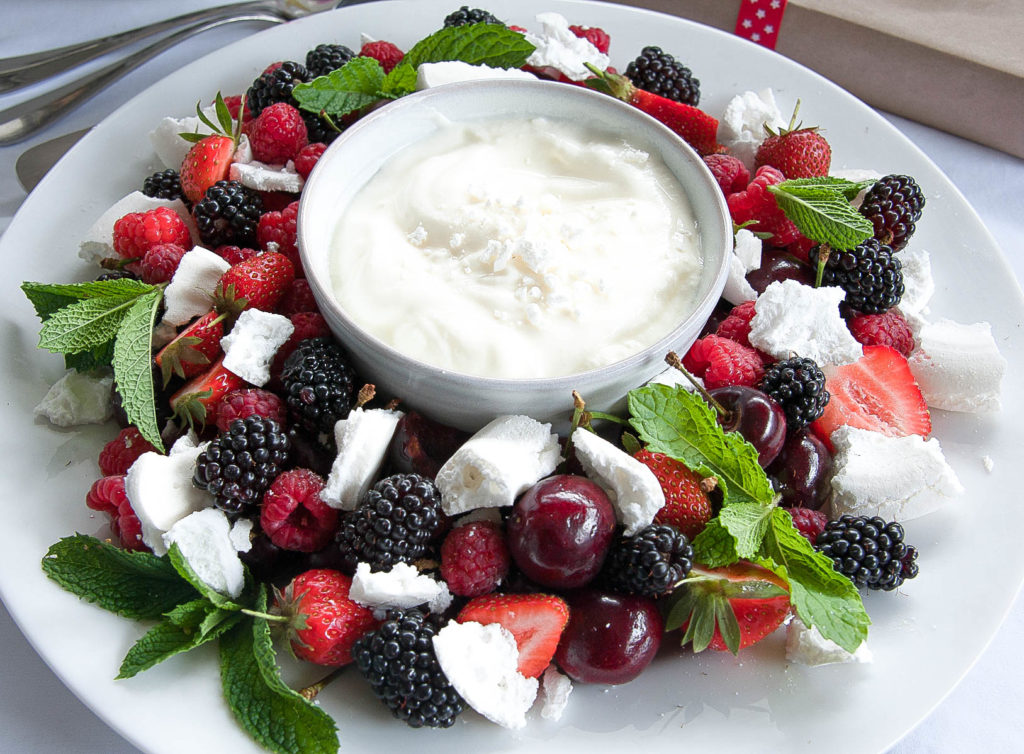 Eton Mess Fruit Salad
If you have some beautiful fresh berries, you really don't need to do much to make a delicious dessert. Make the most of berry and cherry season with this very simple but stunning looking dessert which is a healthier take on the more indulgent original.

Ingredients (serves 4):
1 cup strawberries, halved
1 cup cherries
1 cup mixed berries  (e.g. blackberries, raspberries)
1/4 cup mint leaves
4 meringues, broken into small pieces
1 cup Greek yoghurt (or for a more indulgent version you could use cream)
1 teaspoon vanilla
Method: 
Toss berries together with meringue in a large bowl and arrange on a serving platter
Top with mint leaves
Mix together yoghurt and vanilla and serve in a bowl alongside the berries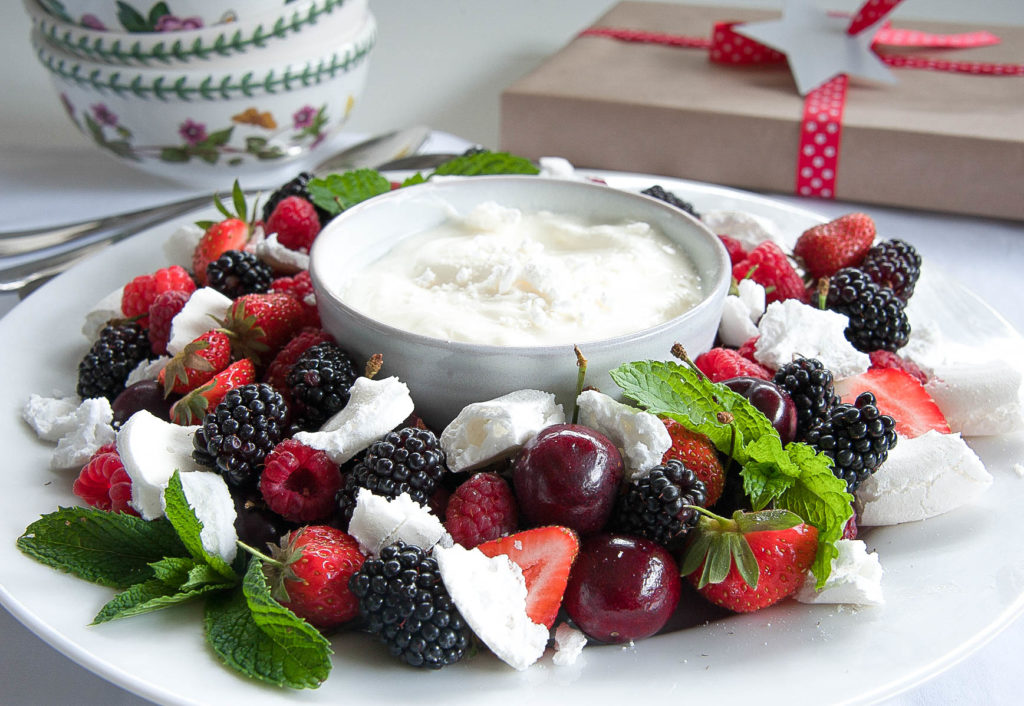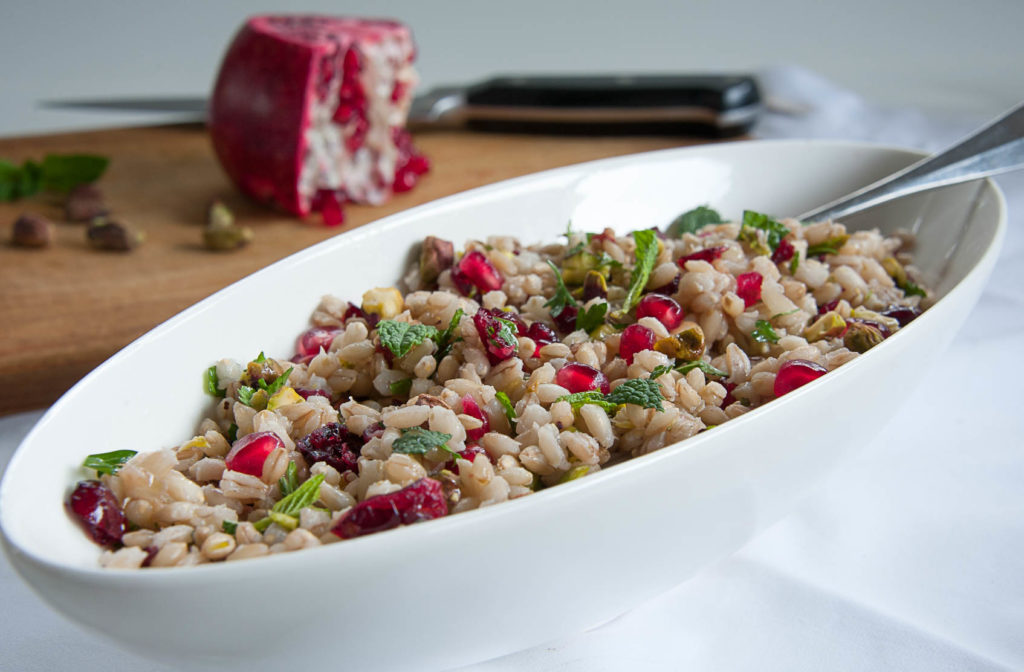 Pearl Barley, Pomegranate and Pistachio Salad
A very Christmassy looking salad that combines different colours and textures to make a great side to go with ham, turkey or seafood.
Ingredients (serves 4):
2 cups pearl barley, cooked
1/2 cup cranberries, roughly chopped
1/2 cup pistachios, toasted and roughly chopped
1/2 cup pomegranate seeds
1/4 cup mint leaves, finely chopped
2 tablespoons olive oil
2 tablespoon lemon juice
2 teaspoons honey
2 teaspoons pomegranate molasses (optional)
Pinch of salt
Method:
Combine barley, cranberries, pistachios, pomegranate seeds and mint in a large bowl.
Mix together olive oil, lemon juice, honey, pomegranate molasses and salt and stir through barley
Transfer to a salad bowl and serve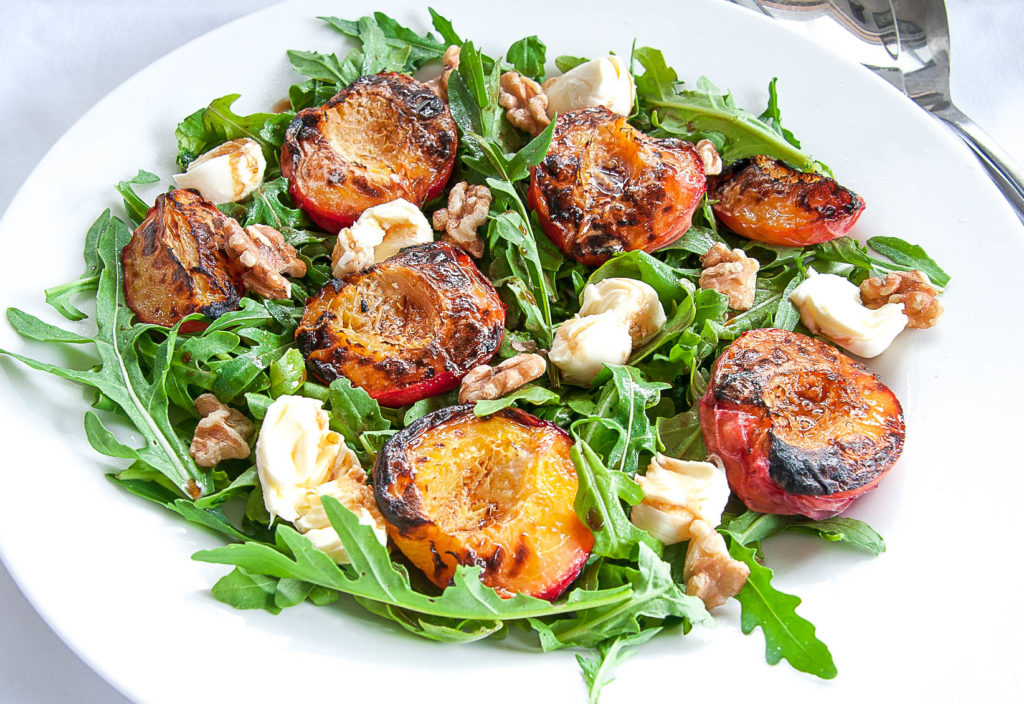 Balsamic Peach, Rocket & Mozzarella Salad
A great summery salad that makes an excellent accompaniment to a BBQ (and you can even cook the peaches on the BBQ too!)
Ingredients (serves 4):
2 cups rocket
3 peaches, halved
100g fresh mozzarella, torn into small chunks
1/4 walnuts, toasted (optional)
Dressing:
2 tablespoons balsamic vinegar
2 tablespoons oil
3 teaspoons honey or caramelised balsamic vinegar
Method:
Place peaches, cut side up under grill and grill for 5 minutes or until soft and well browned
Arrange rocket on a large serving plate. Top with peaches, torn mozzarella and walnuts
Mix together dressing ingredients, pour over salad and serve
NB: This salad is best made just before serving.