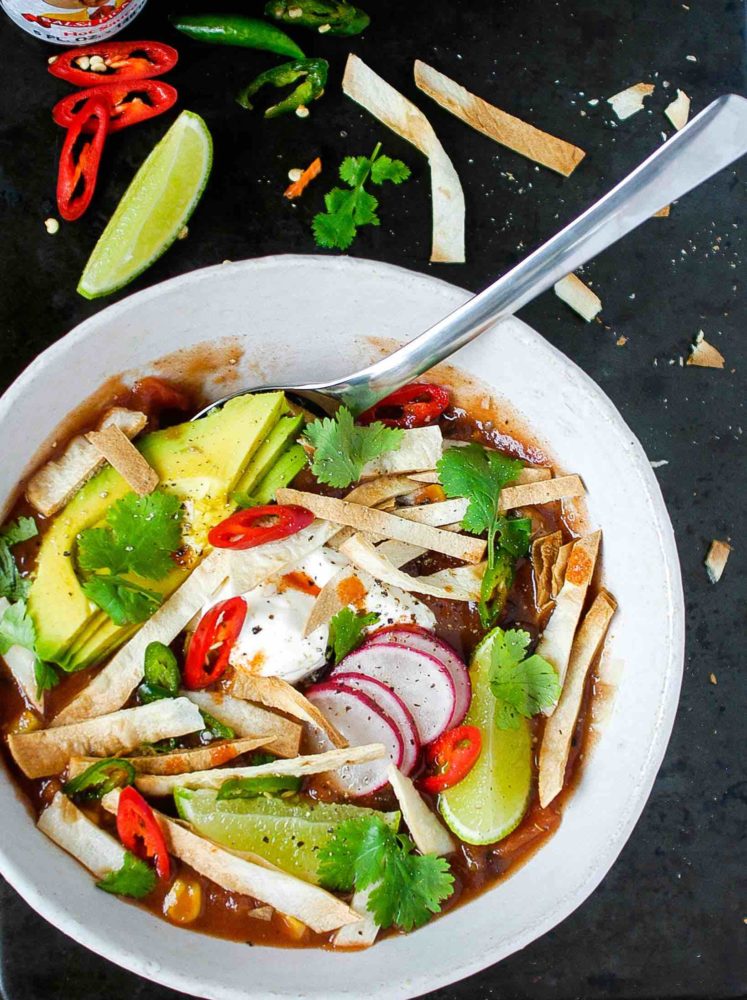 It might be a little early in the season for soup – but I've had enough of the hot weather now so I'm just going to go ahead and get stuck into some wintery things and hope that some colder weather follows!
This soup combines so many of my favourite foods – beans, sweet corn, lime, avocado – it's almost like a taco in a soup. It's also incredibly nutritious, and provides a great balance of low GI carbs and protein and of course plenty of veg.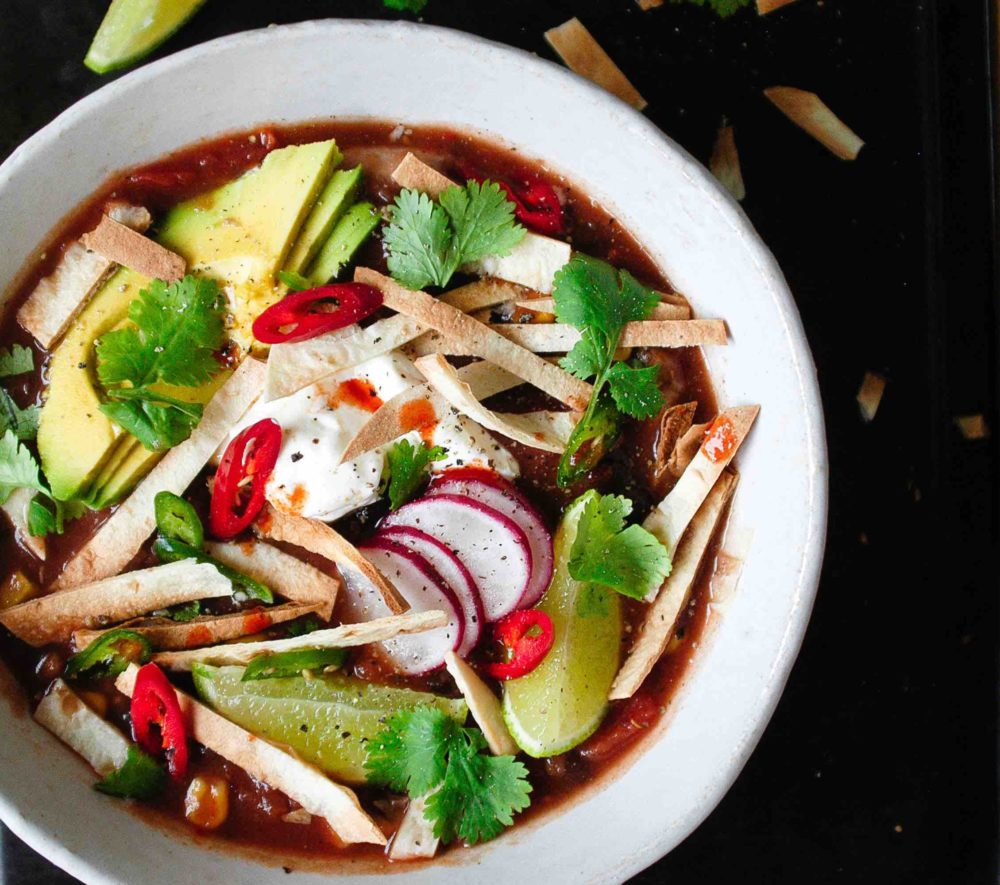 If you haven't used black beans before, I would highly recommend trying them – as with all legumes they're a great source of fibre, low GI carbs and protein and also add an authentic Mexican vibe (if you can't find them, kidney beans will work just as well though).
As usual, I've taken just about every shortcut possible to make this soup really quick and easy to make – and because the chicken cooks in the soup it's one extremely efficient recipe!
Ingredients (serves 2):
2 cups chicken stock
2 cups water
1 (400g) can crushed tomatoes
1/2 cup sweet corn kernels (equivalent of 1 cob or 1 small can)
1 can black beans
1 1/2 tbsp Mexican spice mix (or alternatively, use taco seasoning)
4 chicken drumsticks
1 tbsp lime juice
To serve (don't leave these out, they're the best bit!):
2 small corn of flour tortillas, cut into thin strips (or one large handful of corn chips, crushed)
1/2 avocado, sliced
2 tbsp sour cream
1 radish, finely sliced (optional)
Few sprigs of coriander
1/2 large red or green chilli, sliced
A couple of lime wedges
Dash of chilli sauce
Method:
Preheat oven to 180°C
Combine chicken stock, water, crushed tomatoes, sweet corn, black beans and Mexican spice mix in a large saucepan over medium heat. Add chicken drumsticks and allow to simmer, covered, for 20 minutes or until drumsticks are cooked through.
Meanwhile, place tortilla strips on an oven tray and bake for 5 minutes or until just beginning to brown (watch them carefully as they burn quickly!)
Remove drumsticks from pan and allow to cool for a few minutes. Then remove meat from bones, shred and return the meat to the pan (discarding bones). Stir through lime juice.
Divide soup between two bowls. Top with sliced avocado, sour cream, radish, lime coriander, chilli and tortilla strips.