Even at the busiest of times, when trips to the supermarket are few and far between, I almost always have tinned salmon, breadcrumbs and chilli flakes in the pantry and some eggs in the fridge, which together make up the essential ingredients for one of my all-time most reliable pantry meals –  salmon and chilli patties.
They're not just one of the quickest and easiest standbys around, they almost couldn't be healthier with lots of omega-3 fats, wholegrains, low GI carbs and some veg thrown in there too. Serve them as they are with a salad or pop them in a wholemeal burger bun with some lettuce, tomato and whatever other fillings you fancy.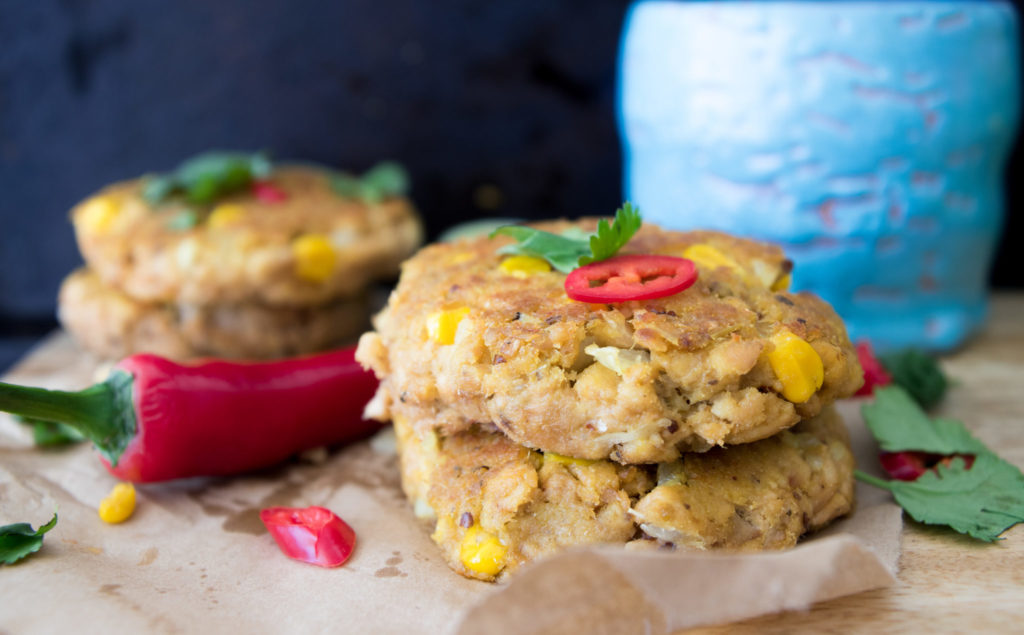 Ingredients (Serves 4):
400g tin salmon, drained and skin removed
1 cup wholemeal breadcrumbs
1 spring onion, finely sliced
1/2 tin sweetcorn, drained
3 eggs, lightly beaten
1/2 teaspoon chilli flakes
1 teaspoon soy sauce
1 tablespoon extra virgin olive oil
Method:
Place salmon in a large bowl and mash well. Add all other ingredients except oil and mix until well combined.
Using wet hands, shape mixture into about 8 patties.
Heat oil in a large frypan and fry patties for 4-5 minutes on each side or until golden brown.
Serve with finely sliced chilli, fresh coriander and salad.