The addition of lentils to this soup makes it more of a cross between a dhal and a soup –  for any of you not yet acquainted with dhal, it's basically a thick and very wholesome sort of curry soup sort of thing made with split peas or lentils. If you prefer it more like a soup though you can always add some extra stock at the end so that it's not so thick.
Shortcuts: The best thing about this recipe is that you can just dump all the ingredients in a big saucepan and leave it to sort itself out. Then just a quick blend at the end and it's done. I can never be bothered with sautéing onions when I make soup so I usually just leave them out – and I find that most of the time it doesn't make too much of a difference anyway. Another shortcut I use is to leave the skin on the pumpkin and take it off after its boiled when it's much easier to do (as peeling pumpkin is one of my least favourite cooking activities!).
A note about curry powder: I know it's not exactly authentic but it cuts down on time and ingredients and works perfectly in this recipe. If you object to curry powder though, feel free to substitute with other spices like turmeric, cumin, ground coriander etc.
Toppings: The toppings are totally up to you – I went all out and used four different ones, but you could just use one or none at all. I would recommend the curried pumpkin seeds though – they are really easy to make and deliciously crunchy (plus a great source of zinc and magnesium too).
Bread: As with all soup, this one definitely likes to be served with some bread but as its a kind of curry you could even go one step further and have it with some naan bread.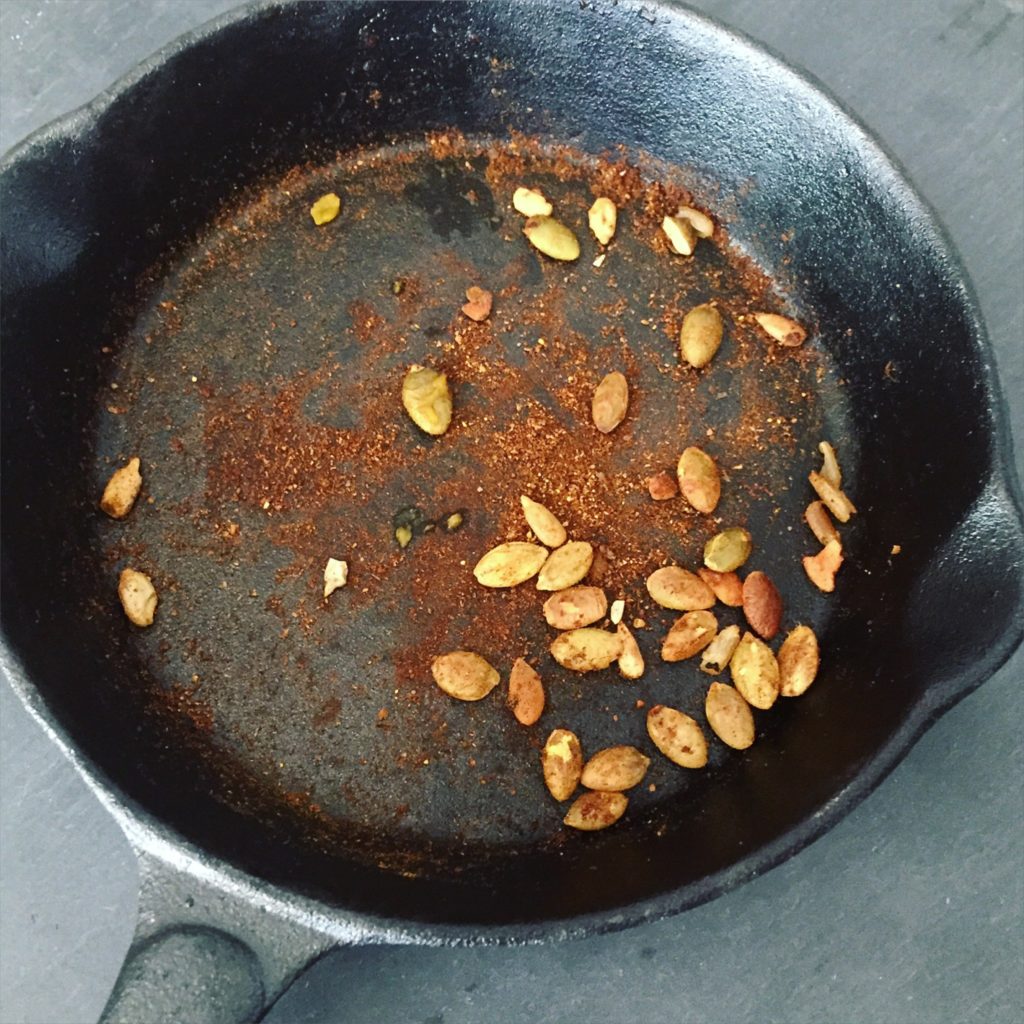 Ingredients (serves 4):
1kg pumpkin
1 cup split red lentils, rinsed
4 cups chicken stock
1 teaspoon curry powder
1 teaspoon ground cumin
Toppings (optional):
Natural yoghurt
Curried pumpkin seeds (toasted pumpkin seeds tossed in a bit of curry powder)
Finely sliced red chilli
Coriander
Method:
Roughly chop pumpkin into chunks, carefully removing skin
Place pumpkin, lentils and stock in a large saucepan and boil on high for around 15 minutes or until pumpkin is very soft
Add curry powder and cumin and blend using a stick blender (if you don't have one, just mash the pumpkin with a fork or potato masher)
Serve with whichever toppings you like