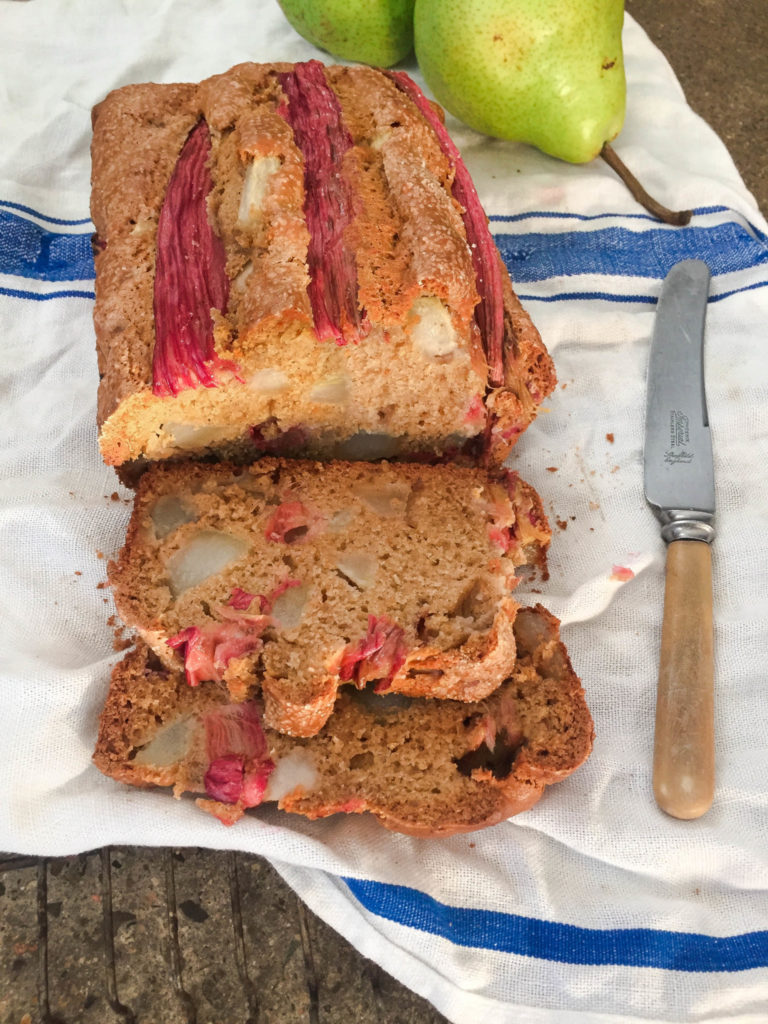 I love baking, but there are times when I feel like spending a couple of hours creaming butter and sugar, sifting flour and delicately peeling and cutting up fruit, and other times I just want to throw some ingredients in a bowl and let the oven do the rest. This recipe is definitely one for the latter situation. Because it's a loaf, not a cake, you basically just give the ingredients a quick mix throw in some roughly chopped fruit and it's ready for the oven.
And if you need any more reasons to give it a go, it also has some impressive nutrition credentials too, with fresh pear and rhubarb, yoghurt and the super healthy extra virgin olive oil. Why is extra virgin olive oil so good for you? Because, unlike other oils, it is rich in polyphenols which have been proven to reduce inflammation.
I by no means think that cake (or cake-like things) need to be healthy, but if you can sneak a few nutritious ingredients in there without compromising on taste then it's like the ultimate win:win!
Ingredients:
3/4 cup wholemeal flour
3/4 cup plain flour
1 teaspoon bicarb soda
1/2 teaspoon salt
1 teaspoon mixed spice
2 eggs
1/4 cup extra virgin olive oil
1/2 cup natural yoghurt
1/4 cup brown sugar
1/4 cup white sugar
1 pear, peeled and diced into 2cm pieces
1 cup chopped rhubarb (about 2-3 stalks, cut into 2cm pieces)
2 teaspoon sugar, extra
3 stalks rhubarb extra
Method:
Preheat oven to 180°C. Grease a loaf tin and line the base with baking paper.
In a large bowl, mix together flours, bicarb soda, salt and mixed spice.
In a separate bowl, whisk eggs well, then whisk in oil and yoghurt. Stir in sugars.
Add egg mixture to flour mixture and mix until just combined. Stir through chopped rhubarb and pear.
Spoon mixture into prepared tin, lay one rhubarb stalk along centre and one on each side and sprinkle with extra sugar.
Bake for around 50 minutes until a skewer inserted into the middle comes out clean. Stand for 5 minutes before turning out onto a wire rack to cool.