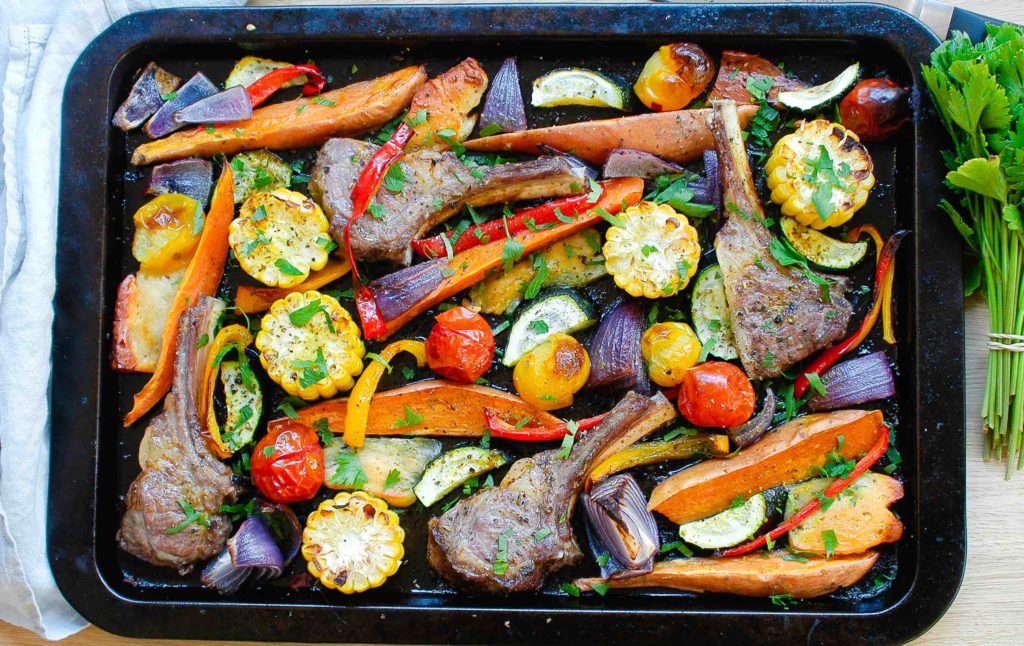 I love a one tray meal, there's something so satisfyingly efficient about just being able to throw everything onto a pan, put it in the oven and then have dinner ready and waiting for you not long afterwards.
This One Tray Mediterranean Lamb & Halloumi is made even more satisfying by the fact that it includes six different types of vegetables – which not only makes it super healthy and nutritious with lots of different vitamins, minerals and antioxidants, but it also means that it looks beautiful thanks to all the different colours. And just when you thought it couldn't get much better, there's halloumi!
The combination of lamb, vegetables and halloumi provides a perfectly balanced meal with plenty of protein, fibre, low GI carbs, and some calcium too (something which many of us don't get enough of!). Oh, and it tastes amazing!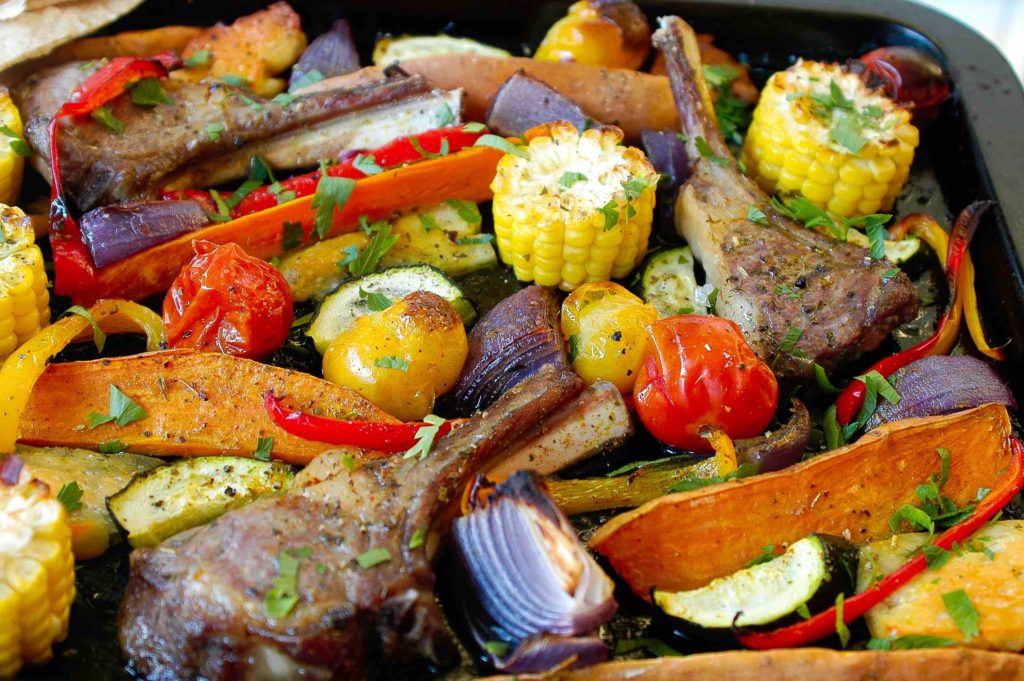 Ingredients (serves 2):
4 lamb chops or cutlets
1 tsp mixed herbs
1 small sweet potato, sliced into wedges (with skin on)
1 zucchini, sliced
1/2 red onion, sliced into wedges
1 cob sweet corn, cut into 5 slices
1 cup cherry tomatoes
1/2 capsicum (any colour), sliced
50g halloumi, cut into 1cm slices
2 tbsp olive oil
2 tbsp chopped flat leaf parsley
2 small wholemeal pita breads, to serve (optional)
Yoghurt Sauce 
1/2 cup natural yoghurt
1 tbsp lemon juice
1 tsp finely chopped mint
Pinch of salt
Method:
Preheat oven to 200°C.
Arrange lamb cutlets, vegetables and halloumi onto a large oiled oven tray.
Sprinkle with mixed herbs and season with salt and pepper.
Bake for 15-20 minutes until lamb is well cooked, vegetables are soft and halloumi is lightly browned.
Meanwhile, make yoghurt sauce by mixing all ingredients together in a small bowl.
Divide lamb, vegetables and halloumi between two plates, top with yoghurt sauce and serve with pita bread.