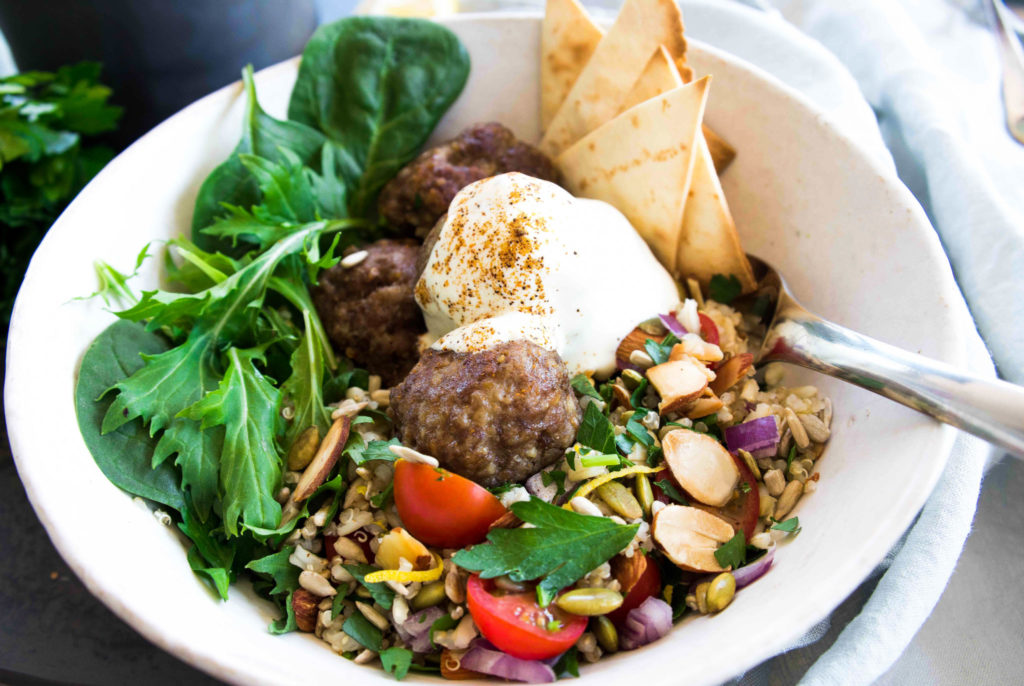 Ingredients (serves 4):
Meatballs
500g lamb mince
1/2 cup wholemeal breadcrumbs
1 egg
1 teaspoon cumin
1 teaspoon ground coriander
1/4 teaspoon salt
2 tablespoons pine nuts (optional)
Salad
2 tablespoons sunflower seeds
2 tablespoons pumpkin seeds
1/4 cup flaked almonds
2 cups cooked brown rice or quinoa (I use a combination of both)
1 handful cherry tomatoes, halved
1/4 red onion, finely sliced
2 tablespoons parsley, chopped
2 teaspoons lemon zest
2 wholemeal pita breads, quartered
To serve
4 handfuls mixed salad leaves
1 cup tzatziki or natural yoghurt
1 lemon, quartered
Method:
Preheat oven to 180°C.
To make meatballs, combine all ingredients in a large bowl and mix well. Roll into balls around the size of a golf ball and place on an oiled baking tray. Bake for around 15 minutes or until cooked through.
Meanwhile, to make salad, spread seeds and almonds over a large oven tray and toast in oven for around 5 minutes or until lightly browned. Mix seeds and nuts together with rice and quinoa, cherry tomatoes, parsley and lemon zest.
Divide salad leaves and rice/quinoa mixture between serving bowls, top with meatballs and arrange pita bread triangles around sides of bowls. Spoon tzatziki over salad and serve with lemon wedges.
SaveSave
SaveSave