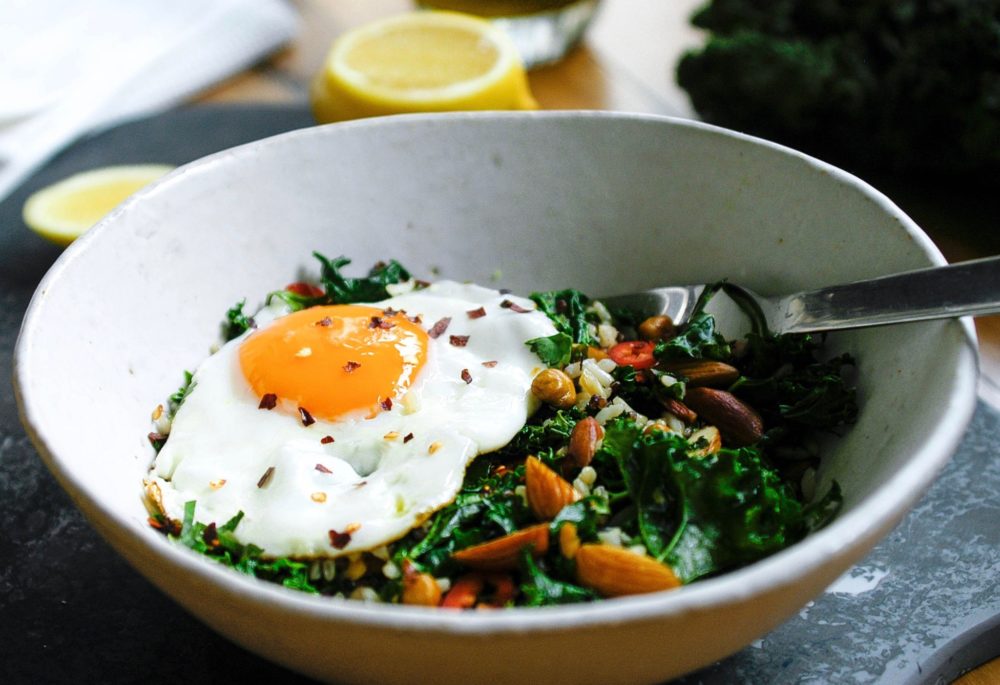 I'm not usually a big fan of kale and generally think it's pretty overrated. But every now and then it surprises me – and this was one of those times. It works perfectly in this dish, I suspect mostly thanks to being surrounded by delicious ingredients such as toasted almonds, chickpeas and chilli.
And of course it just makes the whole thing look and sound ridiculously healthy (which it is!). A big bowl of nourishing goodness which would work equally well for breakfast, lunch or dinner. Oh and by the way, it's super easy to make and can all be done in one pan!
You can have it without the fried egg if you prefer (or go for poached instead) but I think the addition of an egg takes it from more of a salad to a proper meal (and makes it even tastier too!).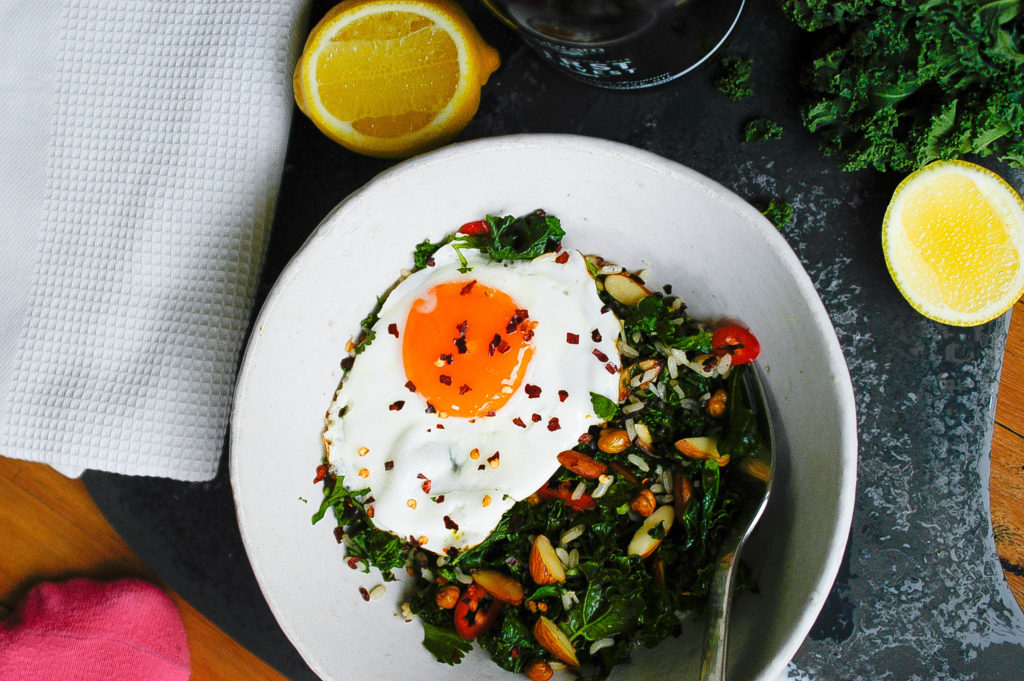 Ingredients (serves 2):
1 small handful almonds, roughly chopped
1/2 tin chickpeas, rinsed and drained
1 tablespoon extra virgin olive oil
2 large handfuls kale, roughly chopped or shredded
1 cup cooked brown rice and quinoa (I use SunRice cups)
1/2 long red chilli, deseeded and finely sliced
2 eggs
1 teaspoon chilli flakes (optional)
Lemon wedges to serve
Method:
Heat a large frypan or wok over medium heat. Add almonds and chickpeas along with 1 teaspoon of the olive oil and fry, stirring, until the almonds are beginning to brown slightly (be careful as chickpeas may pop – keep moving them about!).
Add remaining olive oil, kale, rice and quinoa and cook for a further 3-4 minutes until kale is soft. Season with salt and stir through chilli. Divide between two serving bowls.
Crack eggs into pan and fry for 2-3 minutes until white is just set (or longer if you prefer well cooked eggs).
Gently transfer one egg into each bowl to top rice mixture, sprinkle with chilli flakes and serve with lemon.