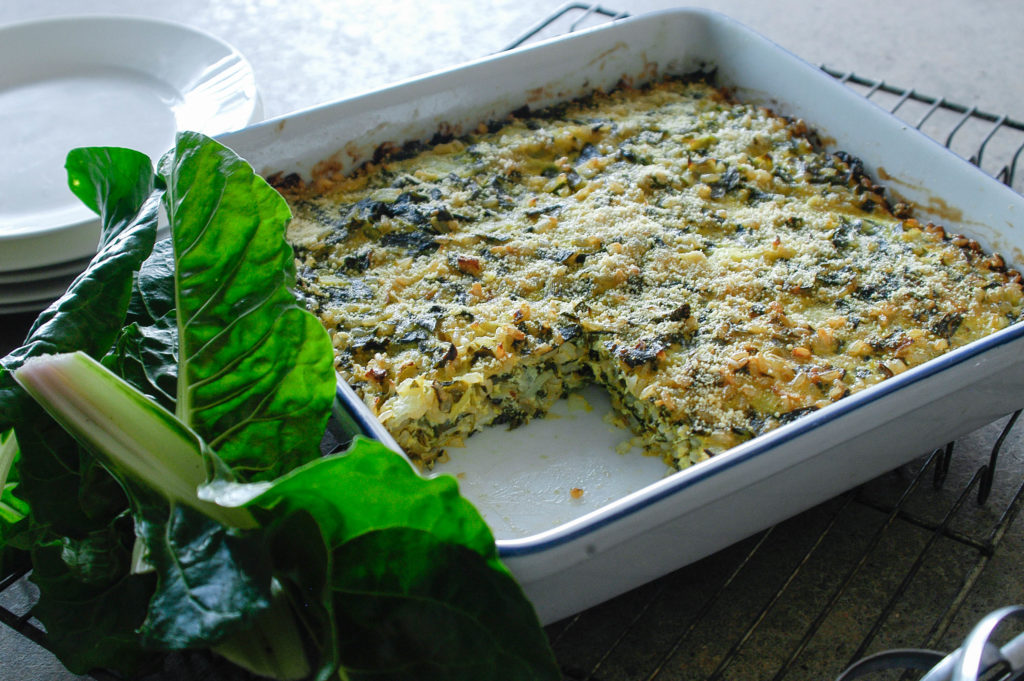 We all know we need to eat our greens, but let's face it, sometimes a pile of steamed spinach or silver beet just isn't that appealing! Enter this Cheesy Greens & Rice Pie – it contains a whole bunch of leafy greens, but is far from boring. Two types of cheese provide plenty cheesy goodness plus calcium and protein, and the brown rice adds some low GI carbs and extra fibre. Plus it makes for some pretty good leftovers too! 
Ingredients (serves 6):
1 tablespoon olive oil
1 onion, finely chopped
1 clove garlic, minced
1 bunch silverbeet or spinach, washed and finely chopped
2 cups cooked brown rice
3 eggs
1/2 cup natural yoghurt
1 cup grated cheddar cheese
50g feta cheese, crumbled
Pinch of salt
1/2 tsp cracked pepper
1/2 cup grated cheddar cheese or Parmesan, extra (optional)
Method:
Preheat oven to 200C. Grease a medium sized pie dish with butter or oil.
Place oil, onion and garlic in a large microwave safe bowl and microwave on high for 2 minutes. Add greens and microwave for a further 30 seconds or until wilted.
Add rice and cheeses and mix well.
In a separate bowl, whisk together eggs, yoghurt and salt and pepper. Add to rice mixture and stir well.
Pour into pie dish, top with extra cheese and bake for 30 minutes or until golden on top and cooked through.