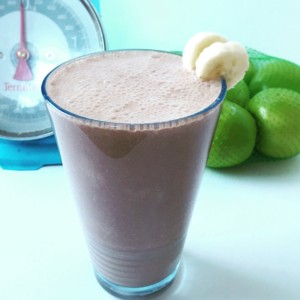 Protein is huge right now and there is barely a gym goer in sight without a protein shake in hand. Having a meal or snack containing a decent amount of protein after exercise is important in maximising the benefits, however, highly processed and expensive protein powders are far from essential.  You can get the same benefits (and more) from real food, without all of the additional unnecessary ingredients, not to mention expense!
This recipe contains around the same amount of protein as your average commercial protein shake. Not only that, this one also contains plenty of low GI carbohydrates to help you recover from your workout so you'll be in great shape for the next one!
High Protein Choc Banana Smoothie
Ingredients (makes 1):
½ cup reduced fat Greek yoghurt
1 cup reduced fat milk
1 banana
1 teaspoon cocoa
3 tablespoons rolled oats OR 2 tablespoons skim milk powder
2 teaspoons honey (optional)
Method:
Combine all ingredients in a blender, pour into a glass and serve.
Variation:
Peanut Banana Smoothie – instead of cocoa, use 1 tablespoon peanut butter – delicious!